First video ad to appear in Entertainment Weekly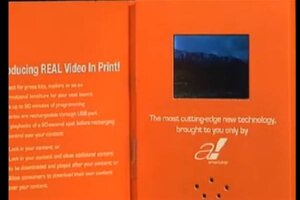 Screen grab by Amy Farnsworth
In the next frontier of magazine advertising, video meets print media.
In the September 18 issue of the magazine, Entertainment Weekly, readers in Los Angeles and New York will find the first video advertisement among its pages.
The video chip ad, manufactured by the Los Angeles-based company, Americhip, will feature CBS previews from the TV network's Monday prime-time lineup as well as advertisements from companies such as PepsiCo.
BBC News reports that the video ad is a rechargeable chip that is about the size of a mobile phone and can store up to 40 minutes of footage. The product, which has a battery life between 65 to 70 minutes, has been in development for two years, Americhip spokesman Tim Clegg told CNET News.
---