Will WoW fans stop playing long enough to read a Warcraft magazine?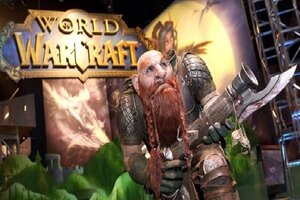 NEWSCOM
The hottest online role playing game is about to make its appearance in print.
This weekend, gamers attending BlizzCon, a gaming convention – and the largest gathering of WoW fans – in Anaheim, Calif., will receive news of the upcoming publication, World of Warcraft: The Magazine.
The quarterly magazine, scheduled to launch this fall around WoW's fifth anniversary, will be spearheaded by Future, a games media publisher.  Each issue will be 148 pages long, and entirely without ads, which means the magazine will rely solely on subscribers for revenue, according to a press release. The annual subscription fee for US readers will be $40. Those who subscribe at BlizzCon this weekend will receive a green, plush murloc critter. If you can't attend the convention, you can sign up for a subscription on the magazine's site.
The first issue of World of Warcraft: The Magazine will focus on WoW's evolution over the past five years and include an article on the history of the doomhammer weapon, for example. Other issues will feature artwork, news on upcoming game developments, and provide insight on the game's history.  It will also be published in English, French, German, and Spanish.
---