Light bulb ban finds some Europeans in the dark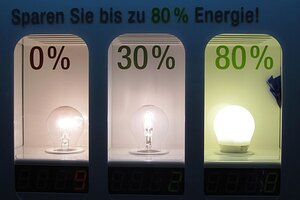 Ina Fassbender/Reuters
Um, lighten up?
A week after the EU's light bulb ban went into effect – traditional filament, incandescent bulbs over 100 watts may no longer be bought by retailers, though old stock may be sold until it's gone – some Europeans are hoarding – and howling.
Old habits die hard, and among the Europeans proving the saying true are patrons at Chris Abbott's "Abbott's DIY," a British hardware store with two branches. Abbott told Sky News, and the Dartmouth Chronicle reports, that:
"Everyone wants to be more environmentally friendly, but in some cases the low energy bulbs are just not suitable and until there is a viable alternative the opinion I am getting is that they should not yet be banned, until such time that there is a better quality alternative."
"In both our stores we have seen unprecedented buying of all traditional types of light bulbs, and speaking to other hardware retailers across the region they are all experiencing the same.
"But as the ban is only on import and manufacture, retailers are still allowed to sell them, so we have filled our storeroom up to bursting point so that we can continue to supply our customers for at least the next few years."
---