With Steve Jobs back, Apple goes after Flip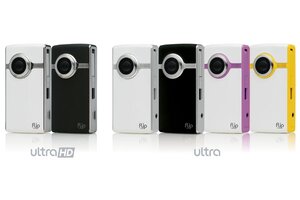 Pure Digital Technologies, Inc., David Campbell/Newscom
At the Apple announcement Wednesday, held at San Francisco's Yerba Buena center, we saw the return of one of Silicon Valley's favorite icons, the black turtleneck and worn Levis of Steve Jobs. Back after 11 months out of the spotlight for health reasons, he and his gang touted the success of Apple's iPod and iPhone lines, took turns taking shots at Microsoft, and rolled out an update to iTunes – all par for the course.
But an unfamiliar – and unexpected – thing happened, too. With the announcement that it was dropping a video camera into every iPod Nano sold, Apple declared open season on Pure Digital's Flip.
The line of cute, dead-simple video cameras has become a tech darling, wowing reviewers from afar afield as USA Today, Fast Company, and The San Francisco Chronicle, not to mention, ahem, The Christian Science Monitor.
---