Apple tells Rhapsody: Welcome to the iPhone club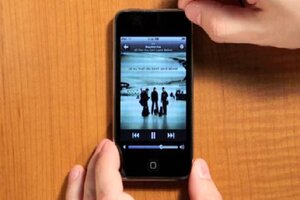 Screen Grab
There was speculation yesterday that Apple would release a streaming-music iTunes store, but alas it was just a rumor.
Instead, Apple turned around and approved the Rhapsody iPhone app, a streaming music subscription service with a $15 monthly fee. Last month, people wondered if the submitted Rhapsody app would pass the iTunes AppStore approval process, especially since the Google Voice app failed to make it through to the next approval round (and even sparked an investigation by the FCC).
But Rhapsody has made it through the finish line despite the app's comparable functions to iTunes – an obstacle that has been said to hinder app's approvals in the past. (Perhaps one of the compromises here is that when listeners want to buy a song, they obtain a shortcut to purchase it from the iTunes store.)
The app became available for download last night and offers a free seven-day trial to new users. Those who already have a Rhapsody To Go subscription, can immediately login and start searching for music. Currently, music can only be played using a Wi-Fi of 3G connection.
---