Google is Skynet, and other Internet conspiracies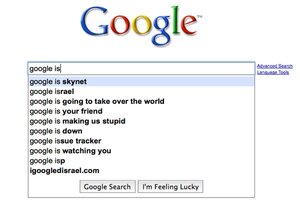 Screen grab from Google.com
Google is going to take over the world. Not really, but it's fun to imagine. As the Internet behemoth lays claim to more and more territory – books, smart phones, voice mail, magazines, maps, electricity meters, we could go on – Google has long passed the critical mass needed to become the butt of many, many conspiracy theories.
The US government is investigating Google's book deal. But are they looking into what many Internet users fear – that Google is Skynet from Terminator series?
Fast Company compiled a fun list of similarities:
Is Google SkyNet? In a word: Yes. In fact, in some ways, it's even smarter. SkyNet didn't assume worldwide domination until 2029, while Google has already effectively monopolized search and it's only 2009.

Google
SkyNet

Established

September 4, 1998
August 4, 1997

Built by

Cybergeek PhD students
Cyberdyne Systems

Goal

Eliminate 404 error
Eliminate human military error

Origin

Menlo Park, CA
Sunnyvale, CA

Cost

$1.1 million initial investment
~3 billion human lives
---
Follow Stories Like This
Get the Monitor stories you care about delivered to your inbox.