What's the buzz on the Orionid meteor shower last night?
(Read article summary)
Peak viewing time for the Orionid meteor shower occurred late last night and early this morning.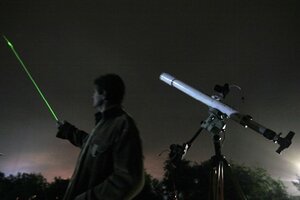 PETAR PETROV / AP
So how was the Orionid meteor shower last night?
Just like we called A-Rod's home run last night as he was walking up to the plate, NASA pretty much nailed their prediction of 60 meteors per hour.
"Observers are reporting that the rate got as high as 55 per hour last night/before dawn this morning - pretty close to the 60 predicted," NASA's Janet Anderson told the Horizons blog.
"The meteor shower was pretty much as expected," she added. "Quite a few bright meteors, but not many fireballs or bolides."
What the heck's a bolide?
We headed over to Wikipedia to check. Their definition reads: Astronomers tend to use the term to mean an exceptionally bright fireball, particularly one that explodes (sometimes called a detonating fireball).
Count us in for some detonating fireball action.
I just saw Halley's comet, she waved...
If you missed the show, at least there weren't many bolides. As we told you yesterday, late last night and early this morning were the peak viewing times to witness the effect of the Earth plowing into residual debris left over from Halley's Comet.
As Monitor colleague Pete Spotts explained, "The Orionids are one of two meteor showers each year generated by debris from Halley's Comet. Halley's last graced us with it presence in 1986, when space agencies around the world marshaled a small squadron of spacecraft to study the comet.
---