Twitter slur lands Larry Johnson in hot water
(Read article summary)
Kansas City Chiefs running back Larry Johnson faces suspension after he used a homophobic slur on his Twitter account.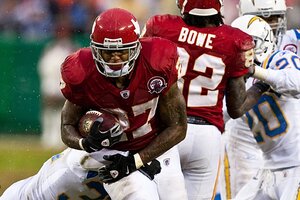 Newscom
The Kansas City Chiefs' Larry Johnson, once an explosive running back on the football field, has launched into the national consciousness this week, but not for his achievements on the gridiron.
After the Chiefs' 37-7 drubbing at the hands of the San Diego Chargers Sunday, Johnson used his Twitter account to question the credentials of the Chiefs' head coach:
"my father got more creditentials than most of these pro coaches. … google my father!!!!!!!"
"My father played for the coach from 'rememeber the titans'. Our coach played golf. My father played for redskins briefley. Our coach. Nuthn"
When another user brought up an altercation between Johnson and a female nightclub patron last year – Johnson reportedly spit in the woman's face, and subsequently plead guilty to disturbing the peace – Johnson lashed out, posting a tweet with a homophobic slur.
He has since issued an apology.
The use of Twitter for an outburst like this from an celebrity is becoming all too common. Though there have been plenty of controversial Twitter moves – the Meghan McCain photo flap and the saga of Redskins linebacker Robert Henson come to mind – this case raises new questions about the medium.
---