RFID on the next iPhone? Why?
(Read article summary)
An RFID-equipped iPhone could open doors – literally – and advance the technology.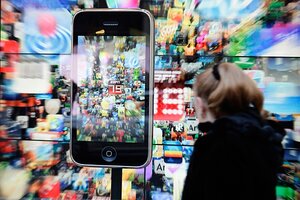 Newscom
Reports are coming in that Apple (in addition to rolling out a smaller capacity Droid-fighter) has plans to build RFID capabilities into its next iPhone. Why would Steve Jobs and the folks in Cupertino do that?
Most people think of RFID (not always viewed as the most secure of systems) as the cards and scanners used for corporate building access. But recent advances in "near-field communication" (NFC) have broadened the spectrum of RFID's uses.
Think of NFC as enhanced RFID. With RFID, there is a distinct card and reader, and the card can be read when it comes into proximity with the reader. NFC does the same thing, but combines the card and reader functions, enabling two-way communication.
What does Apple want with NFC?
Einar Rosenberg, who runs the Near Field Communications LinkedIn group, shared this:
A highly reliable source has informed me that Apple has built some prototypes of the next gen iPhone with an RFID reader built in and they have seen it in action. So its not full NFC but its a start for real service discovery and I'm told that the reaction was very positive that we can expect this in the next gen iPhone.
So we could soon be ditching those RFID cards and using our iPhones to open doors, ride the subway, or rent Zipcars. Big whoop, right? Well, yes, but there's more.
---