Sesame Street Google doodles coming to a close?
(Read article summary)
The seventh Sesame Street Google doodle appeared Tuesday, along with a high resolution gallery of the iconic images.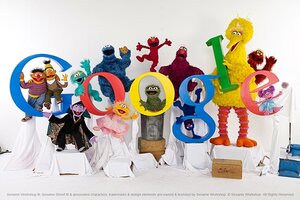 Sesame Workshop/Google
OK, it was cute – for a while.
But we at Innovation can't be the only ones not exactly sad to see Sesame Street characters make their exit from Google's homepage.
In a post on the company's official blog, Google's Marissa Mayer acknowledged that the furry creatures that Google visitors had seen hanging around the site's homepage were there to celebrate the 40th birthday of Sesame Street, the longest-running children's show on television.
In addition, Mayer invited readers to look through a gallery of high-resolution images of the Sesame Street Google Doodles, including one that gives a behind-the-scenes look at the making of the ensemble image gracing screens today (We've got it at the top of this post, but Mayer encouraged fans to make the doodles their desktop backgrounds and hang them around their cubicles.)
---
Follow Stories Like This
Get the Monitor stories you care about delivered to your inbox.