PS3: Modern Warfare 2 servers down, debunked on Twitter
(Read article summary)
Modern Warfare 2's PS3 servers buckled under the weight of hundreds of thousands of simultaneous sign-in attempts, according to an Infinity Ward rep.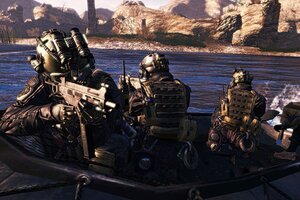 Modern Warfare 2 – those three words are arguably the biggest in gaming this year, but it took just two days for problems with the game's servers to bring the thriving multiplayer community to its knees.
Speculation Wednesday pegged the PS3 multiplayer outages to a software patch released for the game Tuesday night, but those claims were laid to rest Wednesday – on Twitter, of all places.
Robert Bowling, Creative Strategist at Modern Warfare 2 developer Infinity Ward, used his Twitter handle, @fourzerotwo, to shoot down rumors and to spread information directly to the thousands of gamers looking for answers.
Here's a rundown of how Bowling debunked the myths and misunderstandings surrounding the outage, which was pegged to the failure of a server at Demonware, the third-party firm tasked with handling Modern Warfare 2 Playstation 3 multiplayer traffic:
In response to questions about why multiplayer went down (12:3o ET):
The amount of players on #MW2 [Playstation Network] overwhelmed the PSN presence server which updates "what you're doing" and is essential to parties.
On when a patch for the game's multiplayer was coming (3:00 ET):
[Multiplayer] doesn't require a patch. It's a server overload not a bug in the code. They're working to have servers back up ASAP.
On rumors that Modern Warfare 2 multiplayer wouldn't be back up til Friday (4:00 ET):
Not true. Multiplayer will be available as soon as Demonware gets the servers back online ASAP.
---