Apple's Upper West Side beacon unwrapped
(Read article summary)
The Upper West Side Apple store opens Saturday morning.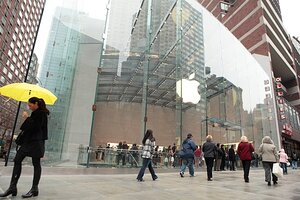 Lucas Jackson/Reuters
What's the secret to selling Apple stuff? Showcase it in gleaming monuments of glass and light.
That seems to be the message Apple is sending with Wednesday night's unveiling of its fourth Manhattan store, an 8,500 square-foot big-box of Mac-moving might. The store at 1981 Broadway opens for business Saturday morning at 10, and the first 2,500 through the doors get a commemorative t-shirt (to sell on eBay).
Gary Allen, who covers Apple store openings around the world at IFOAppleStore.com (IFO for In Front Of, the place devoted fans often find themselves camping out ahead of store openings), was one of the first to write of the finished store's unveiling, and has put up a large gallery here.
Giant racquetball court? Waste of space?
Early comments on the store's design have been largely positive. An expansive, soft-stone selling floor surrounded by 45-foot marble floors and capped by an arched all-glass roof dotted with spotlights that make the space gleam at night give the space a hangar-like feel. One IFO commenter likened the wide-open design of the store to a jai-alai court.
With all that open space – the pictures at IFO and Gothamist make it look enormous, and it is Apple's largest single selling floor – it's hard not to question the environmental impact requirements of maintaining the store's climate. Nowhere in Apple's press release does it mention any environmentally-friendly features of the new store – not even a green (but not green) roof like Boston's store has. With the pains Apple has taken to ensure its products go easy on the environment, it'd be a shame if its flagship emporiums didn't toe the same line.
---