Facebook privacy changes, aimed at openness, may trigger the opposite
(Read article summary)
Facebook will require its 350 million users to review their settings as it rolls out new privacy controls.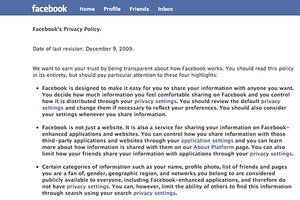 Facebook screengrab
Uh-oh, Facebook's made another change.
With Wednesday's privacy policy revision (and the unsaid truth that if users take no action their updates will be posted for the entire Internet to see) Facebook may be opening the door to its own downfall.
How so?
When the site was founded, it brought users with preexisting offline connections together – initially just colleges, then companies, high schools, and regions.
As it announced it would last week, today Facebook did away with regional networks. And If they haven't already, all 350 million of the site's users will soon see a dialog box that will require them to review the site's new privacy controls and use a "transition tool" to help translate their current privacy settings into terms that mesh with the new policy.
What's changed? And why?
In addition to the demise of regional networks, Facebook today introduced more "granular" controls on what information is shared and with whom. Functions like photos or status updates may be set to post only to specific users, just friends, friends of friends, or to everyone, which is now the default setting. And "everyone" now means not just all of Facebook, but the public Web as well. In a sense, Facebook is clearing out its 'walled garden' and making users ask to move back inside.
---
Follow Stories Like This
Get the Monitor stories you care about delivered to your inbox.