MagicJack meets cell tower as 'femtojack'
(Read article summary)
The original MagicJack brought cheap home-phone service. With a new model unveiled at CES, it's doing the same for cell phones.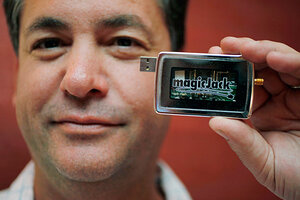 Paul Sakuma/AP
Special offer! Act Now!
It's not often that an infomercial product makes its way onto the pages of the Monitor's Horizons blog, but today is a special day. We're not going to be praising the Shamwow for its prowess at cleaning up spilled LAN party Mountain Dew, or revisiting the Weezer Snuggie as an economical alternative to USB-powered space heaters. Instead, we're taking a look at the revamped MagicJack.
As first reported Wednesday by SiliconAngle, MagicJack, the device that promises next-to-free long-distance calls by creating a way to plug landline phones into Internet-connected computers, is set to release an updated gadget that will do the same trick for wireless phones, conserving costly monthly minutes. Sound familiar? It's not unlike the femtocells we talked about in January and September of last year.
Already being called the "femtojack," the $40 MagicJack version, unveiled and demonstrated outside this week's International Consumer Electronics Show in Las Vegas, differs from the other femtocells we've seen because it isn't sold by a wireless service provider. In fact, it's a bit of a renegade. The Associated Press reports that the device piggybacks on the spectrum that wireless service providers have paid top dollar for – and that there's little those companies can do about it.
The new magicJack uses, without permission, radio frequencies for which cellular carriers have paid billions of dollars for exclusive licenses.
---