Google Nexus One review scores dim amid lackluster customer service
(Read article summary)
Could poor customer service be the tragic flaw of the Nexus One "superphone?"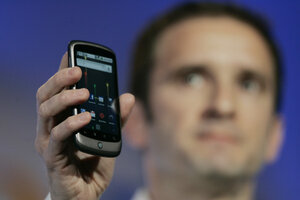 Robert Galbraith/AFP/File
The Nexus One received glittering review scores last week, but will reports of poor customer service sully its early halo?
Google's new "superphone" departs from the firm's traditional business model. In the past, Google programmed software destined for other companies' hardware. But the Nexus One stands as the first device to be branded, sold, shipped, and serviced by Google.
That last point has been sticky for Google. "Confusion over who should answer customer queries has led many to file complaints on support forums," reports the BBC. "Many people are unhappy with Google only responding to questions by e-mail and are calling for it to set up phone-based support."
Initial problems mostly fall into three main camps:
1) Disputes over whether customers should be charged the subsidized T-Mobile price ($178) or the more expensive "unlocked" ($529).
2) Complications with T-Mobile's 3G service.
---