Netflix Wii support on the way, joining PS3, Xbox 360, kitchen sink
(Read article summary)
The leading US video game console will add streaming movies from Netflix to its array of features this spring.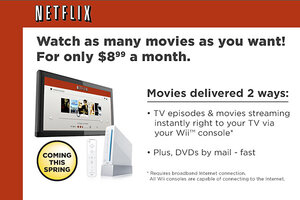 Netflix screengrab
With Wii on board, what's left?
That's the question many tech watchers are asking as they scan the home entertainment landscape and see Netflix support popping up like interstate billboards.
The Wii joins the PS3, Xbox 360, LG and Samsung Blu-ray players, TiVo, a set-top box from Roku, and even some TVs in offering access to Netflix's streaming catalog. Like the PS3, the Wii will require users to send away for a special disc to pop in when they want to watch streaming content.
Broadband-connected Wii users signed up for "unlimited" Netflix plans starting with its most basic $8.99 one can look forward to "Watch Instantly" support by spring 2010.
HD? Meh.
---