Google Nexus One sees T-Mobile price cut
(Read article summary)
A small segment of early adopters will see a $100 refund as Google and T-Mobile extend full discounts to more people.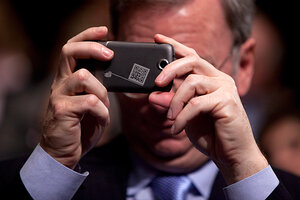 Evan Vucci/AP
As if the iPhone weren't enough of a lesson.
Here, ladies and gentlemen, is reason number 6,234 why being an early adopter isn't a good idea.
As we wrote earlier this month, the pricing structure for Google's first phone left us scratching our heads – new T-Mobile customers who signed up for a two-year contract got the otherwise-$529 phone at a subsidized $179. Current T-Mobile customers who were adding a data plan could upgrade their phones to the Nexus One for $279. But those who were upgrading to the Google phone with an existing data plan were initially charged an extra hundred bucks – $379.
On Thursday, Google and T-Mobile rolled back that last caveat, announcing that all upgrade-eligible T-Mobile customers could take advantage of the deeper discount. Current eligibility rules are here. Google's statement follows:
Previously there were two price points for those fully eligible for T-Mobile upgrades. Those without data plans were paying $279 for the Nexus One, and those with data plans were being charged $379. We worked with T-Mobile and are now able to offer the higher upgrade discount to all existing fully eligible T-Mobile subscribers. This price is now $279. Refunds will be granted to all eligible subscribers who previously purchased the Nexus One at $379. This doesn't affect any eligible customers who bought the phone for $279.
---