How much does the Apple iPad cost? Same as the original iPhone.
(Read article summary)
Few guessed that the iPad would be under $1,000. But has Apple hit the magic number?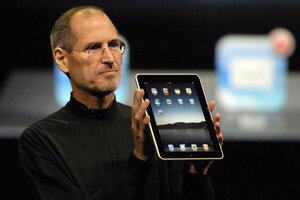 Karl Mondon/Contra Costa Times/MCT/Newscom
Apple CEO Steve Jobs stressed that the new iPad tablet would be a Goldilocks device – fitting in between laptops and smart phones. Its 9.7-inch screen and 3G mobile Internet connection make it more portable than full PCs. Its word processor and performance specs make it more powerful than pocket-sized phones.
But tech tea-leaf readers and countless media articles predicted all of that. What many did not expect was the iPad's Goldilocks price tag.
Last month, PC World turned to Oppenheimer analyst Yair Reiner, who called "for a tablet with a 10.1-inch LCD display and an average sale price of $1,000." The specs we're near misses, but the price aimed far too high.
"All we've heard are guesses from analysts, some who claim the tablet will cost as much as $1,000 including carrier subsidy," wrote Wired.com on Sunday. "We estimate the tablet should cost between $700 and $1,000, placing it somewhere in between an iPhone and a MacBook." That also missed the mark – unless you count only the deluxe models.
---