Cyber ShockWave cripples computers nationwide (sorta)
(Read article summary)
The Cyber ShockWave simulation tests America's response to a computer attack.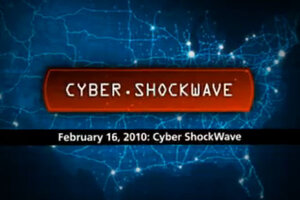 Screenshot from YouTube
How will America respond to a vast cyber attack? An all-star team of security agents and lawmakers will provide a key glimpse today.
Former government officials gathered Tuesday in Washington to participate in Cyber ShockWave.
The event, sponsored the Bipartisan Policy Center, is a kind of high-level role playing game. As reports of the fake attack roll in, Washington veterans will imagine themselves as certain cabinet positions and collective advise the president on how to act.
Players include recent Secretary of Homeland Security Michael Chertoff as the faux National Security Advisor, former Director of National Intelligence John Negroponte as Secretary of State, and retired Sen. J. Bennett Johnston as secretary of energy. The Mandarin Oriental Hotel in Washington will play host to their White House situation room.
---