Skype 3G app to hit Verizon phones in March
(Read article summary)
The partnership between Skype and Verizon is a major breakthrough for VOIP company, which has long fought to be heard on mobile phones.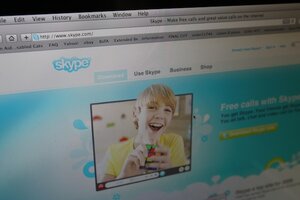 Newscom
The wait is over. After weeks of rumors and speculation, Skype has confirmed it will partner with Verizon to bring a Skype app to a range of Verizon-powered smartphones, including the BlackBerry Curve and the BlackBerry Storm. For anyone unfamiliar, Skype allows for calls over the Internet rather than through traditional phone lines – and therefore avoids phone bills and mobile minutes.
According to Skype, this new app will run on Verizon's 3G service, and not just on Wi-Fi, which means the app will be more easily accessible on the fly. Expected roll-out date? Next month.
Of course, a 3G-enabled Skype app is meant to be coming to the Apple iPhone, too, but Skype has been vague on the release date. (iPhone owners can currently only access Skype through a Wi-Fi connection.) As Kevin J. O'Brien writes today in the New York Times, service providers are traditionally cagey about green-lighting Skype apps:
---