Heavy Rain review roundup
(Read article summary)
As Heavy Rain reviews trickle in, gamers wonder if they're looking at the future of 'interactive drama.'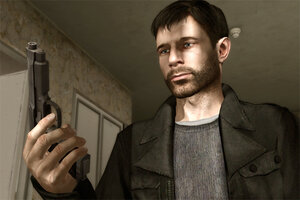 Sony
Game reviewers have applied numerous labels to the PS3-exclusive Heavy Rain: next-generation adventure game, player-driven movie, and developer Quantic Dream's preferred term "interactive drama." Yet most Heavy Rain reviews agree on one word to describe the video game: new.
Heavy Rain, which comes out today, tries to answer one of video gaming's most nagging questions. Why are the games that 15 year olds want to play the same titles that 45 year olds sit back and enjoy? Adults and teenagers watch different TV shows, see different movies, listen to different music, but often buy the same video games. Is there really no market for truly "mature" games?
Heavy Rain's "mature" rating does not denote flagrant violence and sophomoric sexuality. This noir game still contains murder and nudity, but most reviewers agree that it treats them as a sophisticated movie would – as an adult would.
The new release provides "one of the most emotional experiences I've ever had playing a videogame," writes David Ellis in his 1UP.com review. "Heavy Rain portrays pain, suffering, and death with a stark frankness that doesn't elevate horror as something to be entertained by. Instead, you're regularly put in positions where you must choose between two equally horrific outcomes."
The interactions
"The boldly unorthodox navigation through scenes is managed via context-sensitive quick-time events and the ability to hear your character's thoughts as events unfold and you explore," explains David Wolinsky for the Onion A.V. Club. "Buttons let you take different approaches to conversations, start fistfights, or engage whatever else is at hand. It winds up feeling like regular life."
---
Follow Stories Like This
Get the Monitor stories you care about delivered to your inbox.