Longtime holdout Conan O'Brien finally joins Twitter
(Read article summary)
Back in the day, Conan O'Brien got some laughs by making fun of Twitter. Now, after getting the boot from NBC, he's tweeting away.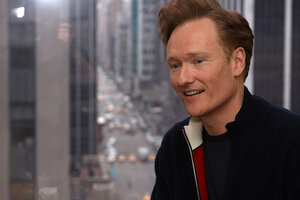 Newscom
In June of last year, Conan O'Brien created a "Twitter Tracker" segment to poke fun at the popular micro-blogging platform. But those were the gravy days: Conan had just assumed control of "The Tonight Show" from former host Jay Leno, and everything seemed possible. Now, after a messy game of tug-of-war – much of it played out in public – O'Brien is gone, Leno is back, and Conan has taken up Twitter.
"Today I interviewed a squirrel in my backyard and then threw to commercial," Conan wrote in his inaugural tweet. "Somebody help me." Conan's feed – which is currently followed by more than 300,000 Twitter users, includes a simple bio blurb: "I had a show. Then I had a different show. Now I have a Twitter account."
Of course, Conan isn't the first late night host to blast Twitter and then take up tweeting.
---