Apple Store braces for iPad pre-order blitz
(Read article summary)
The online Apple Store went down for several hours early Friday morning, as Apple updated the site to accommodate the iPad pre-order rush.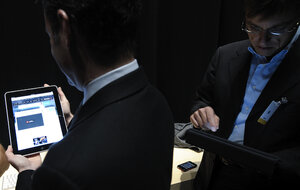 Newscom
For several hours (very) early this morning, a palpable panic spread across the Web. The Apple Store was closed! The Apple Store was dark! The Apple Store was down! Twitter lit up with frenzied requests for info, and on the tech blogs, some overeager writers speculated that the Apple Store might have completely crashed under pressure from hordes of iPad-happy consumers.
Let us be the first to say, "Fret not, dear Apple lover. 'Twas only an update." That's right, folks. As of 8:30 a.m. EST, the Apple Store was open for business again, this time with a big, fat advertisement for an Apple iPad pre-order. The iPad, touted by Apple Store copywriters as "a magical and revolutionary product," is selling at a range of price-points – from $499 for 16-gigabyte Wi-Fi capable iPad to $829 for a 64-gigabyte 3G and Wi-Fi capable iPad.
---