Is Sprint's network ready for the HTC EVO 4G?
(Read article summary)
HTC EVO 4G review scores won't come until the summer, but skeptics are already questioning Sprint's data coverage map.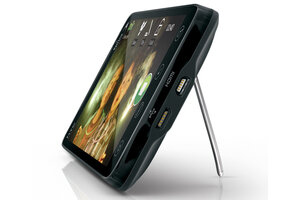 Sprint/MTC
Sprint took many people by surprise when it unveiled the HTC EVO 4G this week. The upcoming smart phone is attractive, powerful, and will take advantage of Sprint's next-generation 4G data network.
But is 4G ready? Sprint insists that its 4G towers are already up and running in 27 cities, including Baltimore, Chicago, Las Vegas, Philadelphia, Portland, and Seattle. That covers 30 million potential customers. By the time the HTC EVO 4G goes on sale this summer, Sprint will wire more cities – with the hope of quadrupling its coverage by the end of the year.
"But given Sprint's spotty history with WiMAX, who knows if the company will deliver on those promises?" writes PCMag.com, in an article headlined "Don't Buy '4G' Phones for 4G Features – Yet." "Since we don't know for sure, we would strongly recommend prospective customers who don't already have 4G coverage to look at Sprint's data coverage map. Assume for a moment that your city won't get 4G, and the HTC EVO 4G becomes a less interesting prospect."
---