Top five online April Fools' pranks
(Read article summary)
Google, Facebook, and others take the top ranks of our favorite tech April Fools' pranks of all time.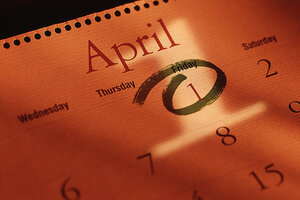 Newscom
April Fools' Day has been around at least a couple of centuries, but in recent years, it's become a favorite holiday of web-savvy pranksters, who every April 1 set out to hoax, tease, or otherwise bewilder nerds across the globe. From upside-down streaming video and helicopter hotels to a Desktop Zero-Point Infinite Power Generator, here's a look at some of our favorite digital April Fools' pranks.
• On April 1, 2008, Google and Virgin joined forces for an April Fools' prank of epic proportions. In a promo emblazoned across the Google search page, the two companies unveiled "Virgle: The Adventure of Many Lifetimes." Virgle, Google promised, would ensure the colonization of the planet Mars. Motto: "Things will get better, eventually."

• Forget that boring old poke feature. In 2007, Facebook rolled out a functionality called LivePoke, which promised to dispatch a real person to poke a friend of your choice. Unfortunately, LivePoke was limited to the first 100 users in any given network. No word on how all that poking played out.

• In 2004, the very real website ThinkGeek began selling a very fake Desktop Zero-Point Infinite Power Generator, which harnesses the "seething abundant energy" of the universe, and cranks out 120 Volts of electricity. "ThinkGeek recommends you drain the unit's non-volatile waste chamber once every three months, and dispose of the tritium/deuterium slurry at a licensed disposal facility," ThinkGeek's promo copy notes. Sound crazy? "We've had people e-mailing us from all over the world telling us they were very interested in it," ThinkGeek buyer Scott Smith told Wired.
---