Apple iPad review roundup
(Read article summary)
Early iPad review scores are stellar. Here's what critics like and hate about the Apple tablet.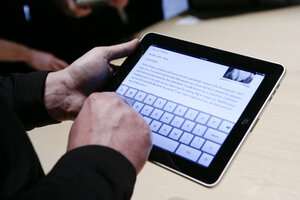 Ryan Anson/AFP
Interested in an iPad? Review scores say you ought to be.
Apple has kept a very tight leash on its new tablet computer, allowing only a handful of reviewers and app developers to get their hands on it before this weekend's release.
Pre-order numbers have been high – analyst sale speculation even higher – but here are the pros and cons from people who've actually held it. If you want the bare-bones info, check out our post about the iPad specs, its lack of Flash video, and the price tag. If you want opinions from iPad reviews, read on.
The opening shot
"Is the iPad cheap? No. Is it flawless? Not at all," begins PC Mag. "Omissions including support for multitasking, a built-in camera for video chats, and Flash support in Safari leave room for improvement, but otherwise, the Apple iPad is a very convincing debut. And it will undoubtedly be a driving force in shaping the emerging tablet landscape." The website gave Apple's iPad a 4.5-out-of-5 "very good" review.
The basics
---