Apple FAQ: When is the iPhone 4.0 keynote again?
(Read article summary)
A quick guide to current Apple rumors and options for an iPhone 4.0 liveblog.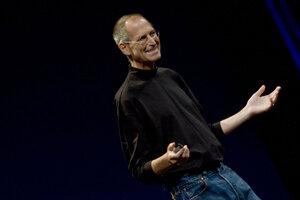 Newscom
What will Santa Jobs bring us this year?
Fresh off the rather successful debut of the iPad tablet, Apple is ready to introduce the iPhone 4.0 operating system.
The event kicks off at 10 a.m. Pacific Time. That's 1 p.m. here on the East Coast.
This updated operating system will impact the iPhone, iPod Touch, and the brand new iPad. Currently, all three take advantage of different parts of the iPhone OS 3.0 and there's little reason to think Apple would change that setup.
So, what can we expect from iPhone 4.0? Rumors suggest that the new OS will offer some multitasking features. Right now, only music, calls, and a few other core functions can run in the background. Such an upgrade could boost productivity and open up new possibilities for cool apps. But multitaking can also overwhelm a processor, slowing down the whole experience. Plenty of people have complained that running multiple apps at the same time on the Palm Pre drags down the phone.
---