White House Project examines, honors the role of innovative women in culture
(Read article summary)
Jill Scott, Kiran Bedi, and other women who work to change cultural perceptions highlighted the White House Project event.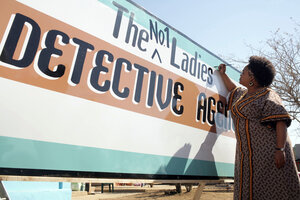 Film Afrika Worldwide/BBC/Mirage Enterprise
The culture is getting a much-needed make-over as storytelling pioneers begin to transform the prevailing image of women. Vivid narratives of steely, enterprising female leaders enable women and girls to envision these roles for themselves and help society accept more women at the top of their fields.
That's the message 400 people – mostly women from foundations, corporations, and women's leadership groups – heard at an awards dinner hosted by The White House Project on April 7. "You can't be what you can't see, and where the problem is is in the culture," said Marie Wilson, the group's founder and president, in an interview with the Monitor at the event. "The image of women as wife and mother hasn't changed in America."
Her organization sought out a solution: highlight people who are upending this traditional image through their creative works whether it's in books, television, cinema, or theater because popular culture has proven power. It is part of the nonprofit's effort to put more women in leadership positions across America.
Interestingly, this year many of the subjects are international women making their way in new and different leadership roles. Typically, those revealing their stories are women, too.
Meryl Streep, a two-time Academy Award-winning actress, presented an award to Kiran Bedi, the first woman in the Indian police force, who starred in the documentary "Yes Madam, Sir." Directed by Megan Doneman, the film was shot in India over six years as it chronicled Bedi's trailblazing career.
---