Facebook looks to expand web presence with 'like' button
(Read article summary)
Facebook is reportedly close to introducing a 'like' button, which would let users flag third-party content. That would put Facebook head-to-head with popular sites such as Digg.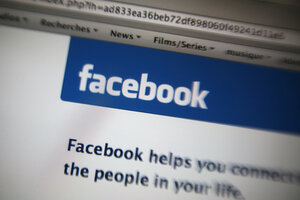 Newscom
Facebook is close to unveiling a functionality that would let users tag – or "like" – a range of Internet content outside the official Facebook site.
That's the report today from the New York Times, which says Facebook CEO Mark Zuckerberg could make an official announcement as soon as Wednesday. If the news is accurate, it would represent a new phase for Facebook, which has sought in recent months to move from social networking site to major Internet hub.
Already, users on the site can "share" content, by cutting and pasting a link or video or photograph onto their profile page. That content is then visible to all the user's friends. What Facebook now has in mind appears to be closer to the Digg model: a user would be able to give a virtual thumbs up to a news item, a music review, or blog – or any other kind of third-party content – without actually logging onto the official Facebook site.
---