Amazon sometimes issues patches for Kindle e-books. Is that a good thing?
(Read article summary)
Amazon reserves the power to issue revised versions of certain Kindle e-books. Some books, however, aren't meant to be revised to death.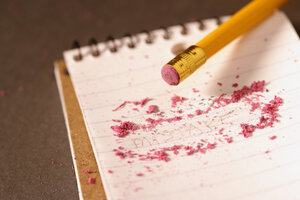 Newscom
Many e-book advocates – and even a few dead-tree purists – have argued the beauty of a digital text lies in part in its endless mutability. After all, a bound book can never be altered, only reissued in revised form. An e-book, on the other hand, can be instantly updated to reflect new reporting or errors in the previous edition.
Today, the Wall Street Journal's Digits blog speaks to a writer named F. Paul Wilson, whose 1984 book, "An Enemy of the State," was recently revised by Amazon, after customers complained that the Kindle version of the book was missing several chapters. Amazon admitted it "does, from time to time, contact customers with updates, and they occur with both fiction and non-fiction titles," according to the WSJ.
For his part, Wilson calls the ability to update e-books "a thing of beauty."
We agree, to a certain extent. Consider the impact the Web has made on the journalistic process: In the past, if a reporter messed up the facts, he had to wait until the next day to issue a correction. Today, he can have his editor instantly append a correction to the faulty story, along with a note explaining what went wrong. This kind of mutability will likely have a huge impact on nonfiction e-books.
---