Red Dead Redemption review roundup
(Read article summary)
Red Dead Redemption review scores applaud the game's surprising sophistication, expansive freedom, and gritty depiction of the Wild West.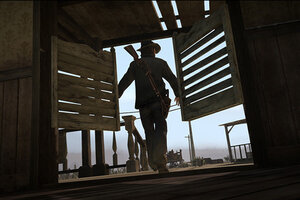 Rockstar Games
"Red Dead Redemption" review scores galloped into town this weekend offering some simple advice before the game's Tuesday release: Gamers, mount up.
According to most write-ups, this most recent take on the Wild West combines the best elements of Clint Eastwood, John Wayne, and "Grand Theft Auto."
Video game developer Rockstar holds a curious double honor in the industry. Adult gamers laud Rockstar for exploring intelligent, interactive storytelling with mature (not just bloody) plots, cultural criticism, and a freedom that movies can't deliver. Meanwhile, video game critics think Rockstar profits off everything that's wrong with the medium: a game structure that romanticizes violence and a plot that requires your character to perform illegal actions to progress.
To members of the latter group, know that "Red Dead Redemption" is for adults only. To members of the former, expect this game to deliver an immersive experience rivaled by few other titles.
The storytelling
---