Facebook and FarmVille will be friends for five more (long) years
(Read article summary)
Facebook and FarmVille were rumored to be splitsville. But today Zynga, the maker of FarmVille, announced it had entered a five-year partnership with Facebook.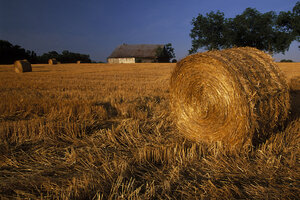 Newscom
It's been skewered by South Park, blamed for at least one very high credit card bill, and heralded by thousands of users as the greatest game on Earth. And now the makers of FarmVille have signed an agreement with Facebook that will keep the game on the popular social network for at least five more years.
For FarmVille fans, this is fantastic news.
For the rest of us – well, let's just say we're preparing for 60 more long months of profile updates about corn and pigs.
Of course, this all could have gone a very different way. Late last week, the Times of London reported that Facebook and Zynga, the creators of Farmville, were locked in a dispute over the game's currency system. Facebook currently takes a 30 percent commission of every real money interaction logged by FarmVille users. Zynga apparently called the cut prohibitive, and threatened to pick up its cows and chickens and bring everything to an independent site.
---