A Verizon iPhone is looking unlikely. But how about a T-Mobile iPhone?
(Read article summary)
One analyst says that a non-AT&T iPhone could hit as early as this fall. But forget about a Verizon iPhone. Word on the street is the next carrier to get on the Apple bandwagon will be T-Mobile.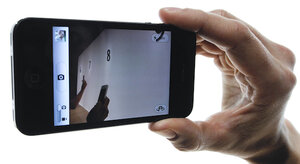 Newscom
We're going to go ahead and start this post with a couple of disclaimers: First of all, as we have noted in the past, iPhone rumor volleyball is one of the most popular sports on the Web. Everyone loves an iPhone rumor. And over the past few months, we've had a veritable landslide of iPhone gossip.
First Verizon was going to get an iPhone any minute.
Others argued that a Verizon iPhone was a hopeless dream.
The pitch of the speculation was such that it's become hard to tell what's iPhone fact and what's iPhone fiction. (Deep breath.)
With all that said, the newest iPhone-related rumor is a doozy. And if it proves to be correct, it could cast the furor over the new iPhone in a very different light. On Thursday, Shawn Wu, an analyst with a firm called Kaufman Bros., released a report speculating that a non-AT&T iPhone is "closer to reality than ever [and] could happen as early as this fall."
---