iPhone 4 problems plague Apple launch
(Read article summary)
iPhone 4 problems mount as users report reception issues and faulty screens. Welcome to another iPhone launch, warts and all.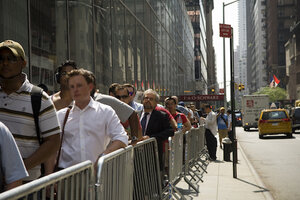 Newscom
Griping is a tradition when it comes to an iPhone launch, so perhaps we shouldn't be too shocked that Twitter and Facebook are deluged with reports of problems with the sleek new iPhone 4. Still, the alacrity with which Apple fanatics have begun bashing the iPhone 4 is notable, especially considering the rabid hype surrounding the device's launch.
(Lost? Check out our iPhone 4 review roundup.)
The bulk of the complaints surround two key issues: Reception problems and some sort of display malfunction. Over at Gizmodo, blogger Jesus Diaz has pulled together a gallery of user-submitted photographs that appear to show a yellow blotch under the iPhone's screen glass. Gizmodo has plenty of these images, although Apple defenders are arguing that the yellow tint is glue residue that will eventually disappear.
---
Follow Stories Like This
Get the Monitor stories you care about delivered to your inbox.