Verizon iPhone could hit in January, but holdouts have been burned before
(Read article summary)
Verizon iPhone rumors have consumed the tech blogosphere again this week. But is a Verizon iPhone really on the way?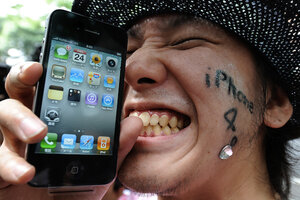 Newscom
Verizon iPhone gossip has become something of a sport on the Web in recent months, so forgive us if we remain a little skeptical that 2011 will really, definitely, totally be the year that a Verizon iPhone lands on planet Earth. But as rumors go, this one is pretty solidly sourced: Bloomberg News says no less than two people "familiar with the plans" have confirmed that Verizon Wireless will break AT&T's stranglehold on the Apple iPhone in January of 2011.
Apple and Verizon spokesmen have declined to comment on a forthcoming Verizon iPhone. Still, if Verizon is really rolling out an iPhone next year, they will have the perfect opportunity to do it. According to Bloomberg, Verizon is expected to unveil several new 4G smartphones – each of which will run on Verizon's new 4G network – at the Consumer Electronics Show in January. And what device better to unveil than a shiny new Verizon iPhone?
Earlier this month, Ivan Seidenberg, the Chairman and CEO of Verizon Communications, told the Economic Club of Washington that Verizon would like nothing more than to offer up an iPhone of their own. Still, when it came to discussing a concrete timeline, Seidenberg demurred. "That decision's really Apple's," Seidenberg said. "We stand ready to do it, but that's an Apple decision."
---
Follow Stories Like This
Get the Monitor stories you care about delivered to your inbox.