iPhone 4 case: What does Apple have on the agenda?
(Read article summary)
iPhone 4 case could be a perfect parting gift for the the upcoming Apple press conference. Or not.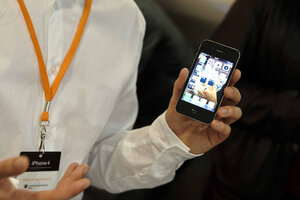 Newscom
Apple's iPhone 4 has come under a lot of fire in recent weeks. ("Death grip," anyone?) You may also know that Apple has scheduled a press conference at 10 AM PST, presumably to discuss the antenna on the iPhone 4. But what exactly will Apple reps say? Depends on whom you ask.
Over at TechCrunch, MG Siegler is predicting that Apple will use the press conference to point out that "the iPhone 4 actually has the best antenna Apple has ever produced. They'll probably have results to back this up as well. The focus will be on the facts that Apple has studies to prove. And the idea behind all of this is to drill it into our heads that the antenna issue is being blown out of proportion. That it's an easy headline about a hot product," Siegler writes.
We tend to agree. But what if Apple was to actually offer its consumers a concrete solution to their iPhone 4 death grip woes? Over at Computerworld, Gene Grabowski, the Senior VP of Levick Strategic Communications, wonders if Apple will give away or offer steep discounts the iPhone 4 case, which have been shown to radically improve reception. (And bumper cases look so much better than LiveStrong bracelets or duct tape!)
---