Facebook hits 500-million-member mark
(Read article summary)
Facebook long ago surpassed MySpace to become king of the social networking world. Facebook CEO Mark Zuckerberg announced today that Facebook now has more than 500 million members around the world.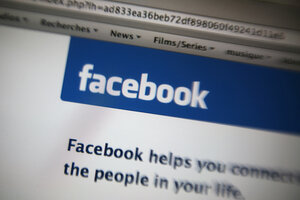 Newscom
Time to drop the blue and white confetti.
Facebook, the social networking site launched by a Harvard University student in 2004, officially hit the 500-million-user mark earlier this morning – more evidence of just how central Facebook has become to today's Web world. Only a few months ago, of course, Facebook was touting the arrival of its 400 millionth member, meaning the site has apparently grown by 25 percent since February.
"This is an important milestone for all of you who have helped spread Facebook around the world," Facebook founder Mark Zuckerberg said in a blog post this afternoon. "Now a lot more people have the opportunity to stay connected with the people they care about." Zuckerberg went on to include a few recent Facebook success stories, including the unlikely tale of Danish Prime Minister Anders Fogh Rasmussen, who used Facebook to find jogging partners.
---
Follow Stories Like This
Get the Monitor stories you care about delivered to your inbox.