How much is the Xbox 360 Kinect?
(Read article summary)
Kinect, the new motion-control system developed by Microsoft, will hit store shelves on Nov. 3. Microsoft says the Kinect will also be bundled with the Xbox 360 console.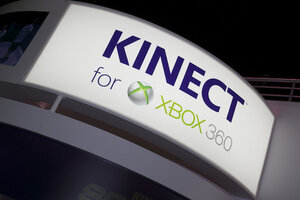 Newscom
Kinect – a name redolent of cords, cables, USB ports. But the Microsoft Kinect, set to launch this fall for the Xbox 360, is the first in what will likely be a long line of cordless, controller-less motion-sensing hardware. Today, Kinect finally got an official price tag: $150 for the peripheral, and $299 for something called a Kinect Console Bundle, which includes the Xbox 360 4GB console and a game called Kinect Adventures.
As gaming industry analyst Jesse Divnich told MSNBC earlier this afternoon, the price tag on the Kinect isn't exactly low, but it's not crazily high, either. The Rock Band 3 Wireless Fender Mustang controller alone, for instance, costs $150. And that only works for a few games. The Kinect will be work with a wide range of titles, including the forthcoming Kinectimals and Kinect Sports.
"Previous peripherals with mass-market appeal, such as band kits, have sold millions of units worldwide even while priced north of $150," Divnich says.
---