On eve of Madden 11 release, NFL players slap EA with suit
(Read article summary)
Forget Madden 11. Today, the spotlight belonged to Madden NFL 09, which allegedly misused the likenesses of thousands of NFL players.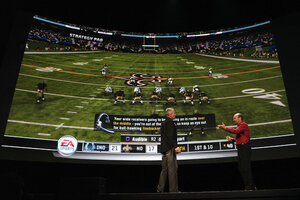 Newscom
Madden NFL 11 is set for release on Tuesday, but today it was Madden NFL 2009 – a game released two years ago by Electronic Arts – that stole the spotlight. According to the details of a lawsuit uncovered by IGN, former Bengals all-star running back Tony Davis has filed suit on behalf of 6,000 NFL players, alleging that EA "knowingly and intentionally" used retired players' likenesses.
Madden NFL 09 allows gamers to control more than 140 "historic" teams, comprised of thousands of retired players. Those retirees are now claiming that EA "exploited" their rights by failing to obtain proper authorization and licenses. EA reps refused comment to IGN, saying that they could not talk about pending litigation.
"The only significant detail that EA changes from the real-life retired NFL players is their jersey number. Despite EA's 'scrambling' of the retired NFL players' numbers, the games are designed so that consumers of the Madden NFL video game franchise will have no difficulty identifying who the 'historic' players are," reads a portion of the suit published by IGN.
---