Android 2.2 now available on the Verizon Droid Incredible
(Read article summary)
Android 2.2 has finally arrived for the Droid Incredible. Here's how to get it.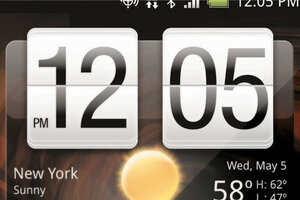 Android 2.2 is now available for the HTC Droid Incredible, Verizon confirmed today on its Twitter page, and users should be able to access the update as soon as this afternoon. The Android 2.2 download comes with a range of upgraded features, including an improved Wi-Fi connection, Flash 10.1 capability, and a snappier browser speed.
Verizon says that Droid Incredible users will be sent a message on their handset about the Android 2.2. update. When you see the message, click the "install now" icon, and the download will begin. The standard warning: If you don't immediately see the system upgrade message, be patient. Verizon is rolling Android 2.2 to an awful lot of users, and the process could take a few days to reach everyone.
If you're having trouble accessing the update, you can also check in on the HTC Incredible page on the Verizon site, which offers up a couple of PDF guides.
---