Google Chrome 6: What it is and how to get it
(Read article summary)
Google Chrome turns 2 today – and Google is celebrating with the release of Chrome 6.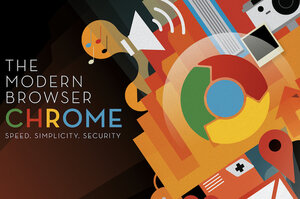 Mike Lemanski
Two years after Google released the first edition of its Chrome browser, the search giant has launched Chrome 6, a platform that company reps says is three times faster at chewing through JavaScript than the original iteration. In addition, Chrome 6 gets an even more streamlined interface, a host of bug fixes, and an adjusted color scheme which is reportedly "easier on the eyes."
You can download Chrome 6 here.
"Watching the 1985 classic Back to the Future last night, I was struck by how much things can change with time," Google's Brian Rakowski wrote in a Chrome birthday post. "The main character Marty McFly travels 30 years back in time, only to find that his house hadn't been built yet, skateboards hadn't been invented and nobody had ever heard rock 'n roll."
Ditto for Chrome, Rakowski joked: "Looking back today on Chrome's second anniversary, it's amazing to see how much has changed in just a short time."
---