Twitter overhaul brings the site one step closer to Facebook
(Read article summary)
Twitter gets a dynamic new two-pane design.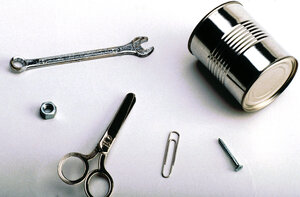 Newscom
Twitter, the insanely popular social network launched in 2006, is getting its first major overhaul in some time, and it's a doozy. The sweeping changes announced yesterday at an event at Twitter HQ in California include a double-pane design – one pane shows the standard stream of incoming tweets and the other a swath of recommended and multimedia content – improved embedded media functionality, and easily accessible user "mini-profiles."
Of these updates, the two-pane design is the most immediately noticeable. (More in the video below.) But Twitter reps are putting especial stress on the multimedia content – Twitter has apparently signed deals with 16 multimedia sites, including Flickr – and the mini-profiles, which allow users to more easily interact with their fellow tweeters.
"It's going to increase the value that people are getting out of Twitter, so in less time you can get more information and value," Twitter co-founder Evan Williams told The New York Times yesterday.
---