BlackBerry era coming to a close?
(Read article summary)
BlackBerry is losing out to Android in the smartphone market, slowly but surely.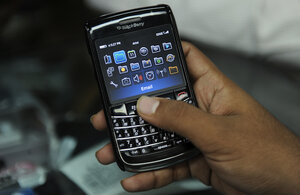 Newscom
BlackBerry – a cellphone line manufactured by Research in Motion – remains as the top smartphone among Americans.
But a new paper released by comScore shows that BlackBerry is gradually losing its hold on the smartphone market, both to Apple, the maker of the iPhone, and to phones powered by Google's ascendant Android OS.
According to comScore, between the months of April and July of 2010, RIM saw its market share decline from 41.1 percent to 39.3 percent. On its own, not a particularly ominous figure.
But consider this: Android climbed five full percentage points during that same period of time, from 12 to 17 percent. And consider also that RIM has seen its cachet drop (the BlackBerry Torch, anyone?), while Android has seen its cachet soar.
---
Follow Stories Like This
Get the Monitor stories you care about delivered to your inbox.