BlackPad: Half BlackBerry, half iPad
(Read article summary)
BlackPad could bring the corporate clout of BlackBerry to the sleek form factor of a tablet computer.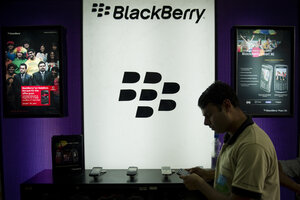 Newscom
As early as next week, RIM, the maker of BlackBerry, could unveil a tablet computer codenamed the BlackPad. The Wall Street Journal reports that such a device could pair the corporate clout of BlackBerry with the form factor of the wildly popular iPad.
RIM has not confirmed such a device, but the Journal's anonymous sources suggest the BlackPad could debut at an upcoming developers' conference in San Francisco and go on sale before the end of the year.
The tablet will sport a seven-inch touch screen, up to two cameras, and Bluetooth to connect with headsets and other devices. (The iPad features a 9.7-inch screen, zero cameras – although the iPhone 4 has two – and Bluetooth service.) However, the most interesting aspect is its cellular plan. The Journal says the BlackPad will offer mobile Internet, but only through another BlackBerry smartphone. In other words, you'll need to already own a BlackBerry to get the most out of a BlackPad.
---