Apple iPad to be sold at Target
(Read article summary)
Apple iPad will shelves at retail giant Target – and just in time for Christmas.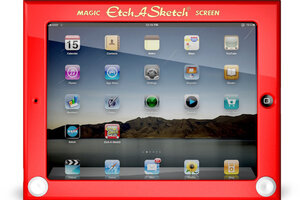 Newscom
Apple iPad hold-out? In a couple of weeks, you won't have to brave the dense lines at Apple stores – you'll be able to scoop up one of those shiny little tablets over at the local Target. That's the word today from the mega-retailer, which today announced it would begin selling Apple iPad computers at more than 1,743 stores nationwide.
The iPad, of course, is already available at BestBuy – as are many Apple devices – but according to at least one analyst, Target, traditionally a favorite stop for budget-conscious shoppers, is an incredibly savvy choice.
"We see the iPad as the Mac for the masses," Piper Jaffray analyst Gene Munster told the AFP today. "The iPad represents a meaningful product category for Apple as a secondary computing device for those who already have a primary computer, a primary device for those who could not previously afford a Mac, and the first Apple product that will be a success in the enterprise."
The price points will remain the same, although Target says it will eventually offer discounts to Target credit card holders.
---