The Flintstones celebrate 50th anniversary on Google
(Read article summary)
Meet The Flintstones Google Doodle, a cartoon homage to America's favorite stone-age family.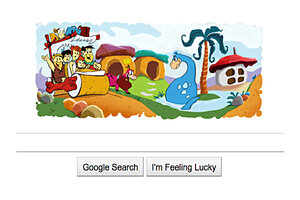 google.com screengrab
Yabba Dabba Doo! Today, Google transformed its homepage page into a scene from The Flintstones, celebrating the animated television show's 50th anniversary.
The Flintstones were portrayed as a modern, working-class family living in the stone age, in the Town of Bedrock.
Some say the creation of The Flintstones was influenced by the 1950's TV show "The Honeymooners," which shares very similar cast and plot lines.
The cartoon was produced by Hanna-Barbera productions and first aired on Sept. 30, 1960, on the ABC network.
Without Fred and Wilma Flintstone to pave the way, we probably would not have the modern day The Simpsons.
Happy anniversary, Flintstones.
---