Why Angry Birds has invaded Saudi Arabia and Pakistan
(Read article summary)
Some iPhone apps aren't just US phenomenons. Angry Birds is a hit in China, Russia, Saudi Arabia, Pakistan, and, of course, the US.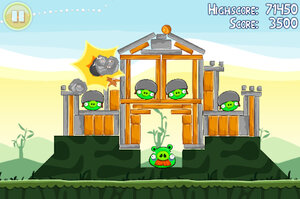 Newscom
Countries may disagree on matters of foreign policy, religion, and economics, yet there's one subject in which nearly everyone can unite: mobile apps.
Sure, Angry Birds probably won't help settle peace negotiations any time soon. But the game is a shared cultural phenomenon on six continents. According to its maker, Finnish game developer Rovio, Angry Birds is a hit in 67 countries, including China, Russia, parts of Middle East, and, of course, the United States.
In the game, players catapult the titular angry birds toward strategically designed fortresses to squash evil pigs. Why the mass appeal? No matter where their country of original, people just want to have fun. In less than two years, mobile applications have evolved into a multibillion-dollar industry, in part because they allow users to do so inexpensively and on-the-go.
"People like to be entertained," explains Carl Howe, a director at tech research firm Yankee Group. "We think of ourselves as being overworked and busy all the time, but the reality is that we have lots of little nooks and crannies in our day. Apps are a good way to wile away the 5 minutes we're waiting for the bus."
---
Follow Stories Like This
Get the Monitor stories you care about delivered to your inbox.