Angry Birds developer Rovio irked at Microsoft
(Read article summary)
Angry Birds is coming to the Windows 7 phone. Or then again, maybe not.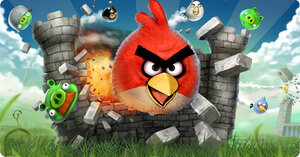 Newscom
On Sunday, reports began slinging around the blogosphere that Angry Birds – the top-selling puzzle game developed by Rovio – would be among the titles offered at the launch of the new Windows 7 phone. But not long after one blogger posted what appeared to be evidence of a Windows version of Angry Birds, reps at Rovio issued a quick correction via Twitter.
"We have NOT committed to doing a Windows Phone 7 version," Rovio wrote. "Microsoft put the Angry Birds icon on their site without our permission." In a subsequent post, a rep added that the company "could do a WP7 version of Angry Birds," but said that was "not the issue. We have not agreed to do that (yet). Will support all relevant platforms."
Angry Birds, which is currently available in Apple iOS 4, Symbian, and Android formats, remains one of the most popular paid apps in the world. (As the Monitor recently reported, the game is extremely popular even in Pakistan and Saudi Arabia, countries not exactly known for their vibrant gaming cultures.) The premise of Angry Birds is simple: The player flings pint-sized, cartoonish birds – via slingshot – at makeshift castles inhabited by green pigs.
---