Nintendo's NES turns 25. So where's the Google doodle?
(Read article summary)
The original Nintendo console turned 25 years-old today.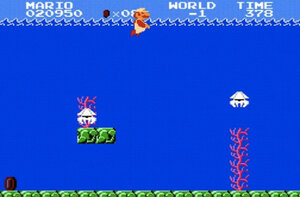 Newscom
A quarter of a century ago, a Japanese company called Nintendo released the Nintendo Entertainment System, a squarish, gray, video game console. The NES launch was a small, understated affair – at first, the system was only available at FAO Schwartz, in Manhattan, in a limited run. The next year – 1986 – the NES went into wide release. The rest, as they say, is history.
So hey – happy birthday, Nintendo! On a personal note, this particular Horizons blogger grew up on the NES, and has fond memories of skipping a few school days to battle through the final levels of Super Mario Bros. (Which may, in retrospect, explain a whole lot.) But we're not alone: across the Web today, tech writes are posting plenty of birthday messages for the NES. (Wired magazine even has a full run-down of the early history of the NES.)
---
Follow Stories Like This
Get the Monitor stories you care about delivered to your inbox.