Windows Phone 7 review roundup
(Read article summary)
Windows Phone 7 software is here. We read the reviews so you don't have to.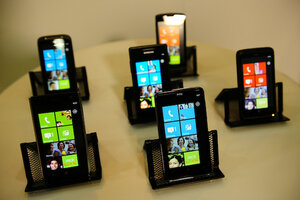 Newscom
Windows Phone 7, the new mobile operating system from Microsoft, should arrive on nine phones by the end of the year, hurling the fledgling OS into a market dominated by BlackBerry, Android, and Apple smartphones. So how does the Windows Phone 7 software stack up? Decently, for the most part, although many reviewers say that Microsoft still has some work to do before its new OS is really up to snuff.
Let's go to the Windows Phone 7 scoreboards.
The Wall Street Journal's Walt Mossberg got his hands on two Windows Phone 7 phones, the Samsung Focus, which is powered by AT&T, and the HTC HD7, which runs on the T-Mobile network. Both phones cost $200, Mossberg notes, and "both are slender phones with large screens and virtual keyboards, though the Samsung is thinner and lighter than the HTC."
---